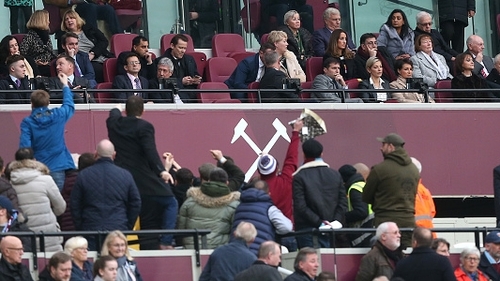 West Ham's defeat at the London Stadium was marred by several pitch invasions, scuffles in the stands and fans taunting owners David Sullivan and David Gold, both of whom were escorted away from the directors' box for safety reasons. "There is no way the team is going to play and get the points to stay up under that sort of atmosphere". We are going to lose games.
Ashley Barnes fired Burnley ahead in the 66th minute, prompting one fan to run on to the pitch where he grappled with West Ham skipper Mark Noble.
Four more supporters made it onto the pitch including one wielding a corner flag he attempted to plant in the centre circle.
"I'm hoping that they have had their outburst, because all that matters is staying in the Premier League".
Noble said: "It is hard for me personally because I am a West Ham fan myself and the results affect me more than anyone else".
If there hadn't been that neutral area between where the directors were sitting in the front row and the 300-400 - that's only an estimate by me - irate fans who were shouting at them, pointing at them and throwing things, I think someone could have been seriously hurt, in addition to that coin which was thrown at David Sullivan.It was a very ugly and toxic scene.
More news: Trump threatened the European Union with imposing duties on cars import
"To be honest, especially for us if we go a goal down at home it has been tough". I think it not an excuse but it is a chance to show their emotions towards, not so much the players, but the board.
"His emotions were high the same as mine on the pitch". It's not that I support the club - I love the club. "It looked like it was poorly dealt with", said experienced midfielder Cork. It has been my home since aged 10 and I was brought up here.
"If I never play for the club again I am still going to feel the way that I feel about it just because I am born and bred here".
Team-mate James Collins said: "I don't ever expect to be 1-0 down at home and look across and see my good friend and captain of this club confronted by a fan". It was unusual because they did alright first half, they worked hard. It was a awful, frightening scene and in the end, quite rightly, the West Ham staff coaxed people back into the boardroom before the final whistle because everybody was absolutely devastated by what might have happened.
'Obviously, a number of fans got on the pitch.