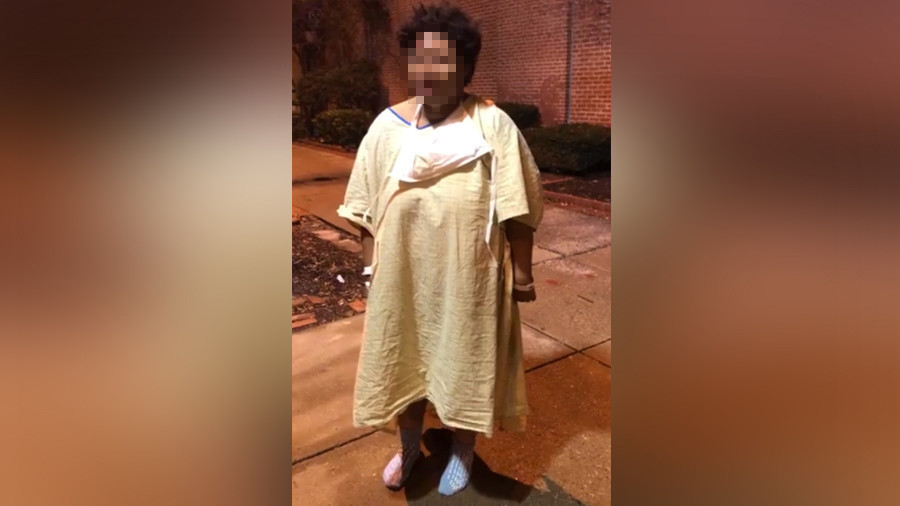 Imamu Baraka just started filming when he saw hospital security guards outside the University of Maryland Medical Center Midtown leaving a woman in her hospital gown near a bus stop.
Photo An image from a YouTube video of a woman who was discharged from University of Maryland Medical Center in Baltimore and released into the cold night.
It is not immediately clear if the woman in the video is homeless or uninsured.
"Y'all are just going to leave this lady out here with no clothes?"
"That is not OK", he yelled after them.
"Due to the circumstances of what it was", one of them said. She was returned to same hospital which had previously discharged her.
Baraka later called the police to get the woman some help. Baraka said it was about 30 degrees.
Shown in the three videos that Baraka later posted to Facebook Wednesday, he ultimately managed to get the woman to sit down on a bench as he called an ambulance. The man, named Imamu Baraka, called emergency services and recounted the event, while staying with the woman to make sure she would be taken care of.
WBAL-TV 11 News spoke with the woman's mother, who said her daughter is 22 years old and has a history of mental illness.
"You can't expect those with mental health issues to be pleasant because they are ill".
The patient's mother says they've since been reunited with their daughter. "What do you think they're going to do with her if they set her out on the curb the first time?" he told ABC News.
More news: Camila Cabello Posts Sweet Thank You Message To Fans After Album's Release
The hospital has pledged to hold the individuals involved accountable for the incident and promised to interview everyone who interacted with the patient - including the hospital workers shown in the video.
"She is getting the help she needs now", said Baraka.
"So you are OK with leaving the woman out here?" "They are coming for you".
The practice was rampant two decades ago when the law remained largely unimplemented.
It is unclear how prevalent hospital dumping is in Baltimore or across the country because it is not tracked by federal or state officials.
The hospital in an earlier statement said what happened Tuesday night was "not representative of our patient centered mission".
"[We] share the shock and disappointment of many who have viewed the video", a spokesperson said.
The University of Maryland Medical Center's top executive, Dr. Mohan Suntha, apologized for what happened to the patient Thursday.
A viral video that has many outraged was shot right here in Baltimore.
"The hospital statement said it's evaluating an appropriate response, "including the possibility of personnel action".
However, this was not enough to appease the public, who took to social media to express their rage.