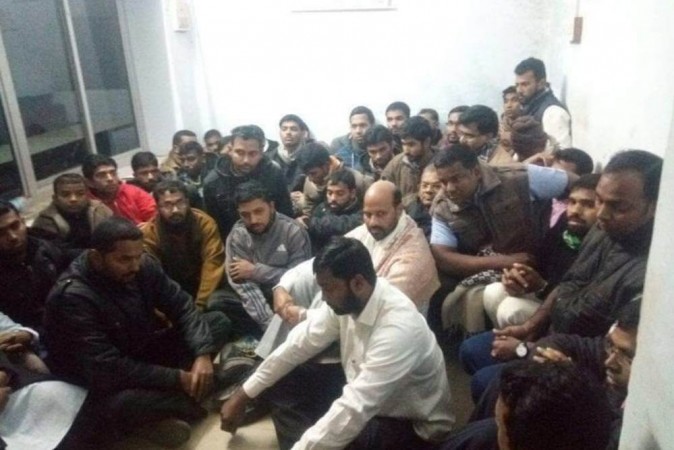 Police have detained six Christians on the charge of trying to "forcibly" convert a Hindu man at Bhoomkhar village in Satna district, shortly after suspected Bajrang Dal activists attacked a carol-singing session there on Thursday night and burnt a auto.
Sub-inspector Mohinee Sharma of Civil Lines police station said a case has been registered against unidentified people for burning the vehicle, but denied claim about members of the Catholic community been assaulted during the incident.
Local Christians said that representatives from a theological school in Satna town, 15km form the village, had come to lead the carol-singing session as part of pre-Christmas celebrations. It was the auto they used that was burnt by activists. They were assaulted and their vehicle was set ablaze outside a police station in Satna district of Madhya Pradesh last night, a PTI report said. The carolers are from the St Ephrem's Theological College in Satna.
The state has some of the strictest anti-conversion laws in India.
According to the police, they detained some people on the basis of a complaint lodged by 21-year-old Dharmedra Dohar, resident of village Bhumkahar.
More news: How well is this stock performing?: International Business Machines Corporation (IBM)
The group was detained following a complaint allegedly filed by saffron activists that they were involved in religious conversion of tribals in the region.
All 32 carollers, accompanied by two priests, were taken to the police station. What is even more shocking is that eight priests who later went to enquire about the detained priests and seminarians were also taken into custody. "They also asked him to pray to Lord Christ", he said. "They gave us a Bible and Rs 5000 in cash", he said.
However, the Catholic Bishops' Conference denied the allegations of forced conversions, saying the group was there just to sing Christmas carols.
Religious conversion is a sensitive issue in India with Hindu groups often accusing Christian missionaries of luring poor villagers - through cash and kind - to convert to their faith. "Charge of conversion on which the priests and seminarians are detained is frivolous and laughable".
Police let off members of the Catholic group around 3:30 am.