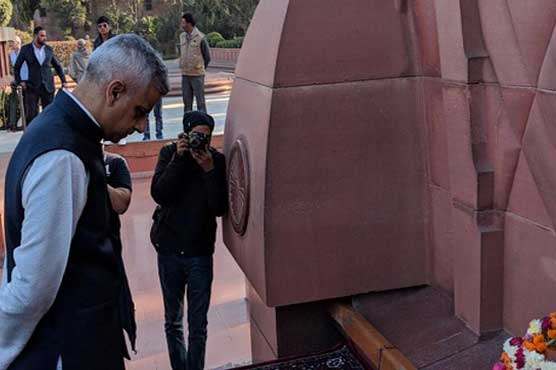 Almost 100 years later, it remains a controversial subject as many British dignitaries, including Queen Elizabeth and her husband, Prince Phillip, and former prime minister David Cameron, have visited Jallianwala Bagh to pay their respects.
During a visit to the Jallianwala Bagh memorial and garden, the Mayor paid his respects to those who were killed there in 1919, and made it clear that, nearly 100 years on from the awful event, the British Government should formally apologise on behalf of the British politicians of the time.
Writing in the memorial's visitors' book on Wednesday, Mr Khan said it had been "incredibly moving" to see the site of the mass shooting, calling it a tragedy that should never be forgotten.
Khan toured the Jallianwala Bagh complex and saw the Martyr's Well and bullet marks along the walls.
Hundreds of Indians, including women and children, were attending a public meeting in a walled garden, known as Jallianwala Bagh, to protest against colonial laws.
Khan, on his maiden visit to Amritsar, paid tribute to those who died at the sprawling grounds in the city.
The massacre took place on April 13, 1919, when British troops, commanded by Brigadier-General Reginald Dyer, opened fire at a crowd of unarmed people, on the harvest festival of Baisakhi.
More news: Anderlecht boss makes comments on 'devastating' Celtic and addresses Bhoys fans
All the exits were blocked by the troops and protesters had nowhere to escape.
Over the years, several MPs and politicians of Indian and South Asian-origin have asked the United Kingdom government to offer an apology to the Indian people but members of the royal family and British premiers have never gone that far during their visits to India.
"As the former Prime Minister said when he visited the Jallianwala Bagh in 2013, the massacre was a deeply shameful act in British history and one that we should never forget".
The Shiromani Gurdwara Parbandhak Committee (SGPC) gave Mr Khan a "siropa" (robe of honour) during the visit.
Punjab chief minister Amarinder Singh welcomed his suggestion.
Mr Khan also visited the Langar hall, the largest community kitchen in the world, of the shrine complex and partook langar while sitting on the floor.
The London mayor, of Pakistani-origin, will visit Lahore, Karachi and Islamabad in Pakistan.