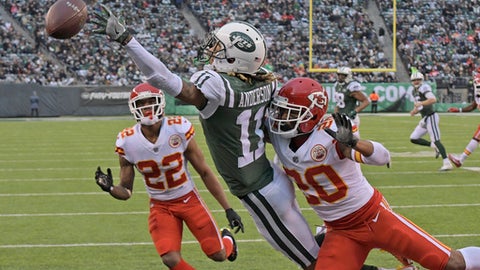 Cornerback Marcus Peters, a focal point in the on-field altercation that led to the ejection of Marshawn Lynch earlier this season, was suspended for one game without pay by Chiefs coach Andy Reid Wednesday and won't face the Raiders Sunday in Kansas City.
On Tuesday, Reid said he was still "evaluating" whether Peters would be disciplined for the incident.
Peters was penalized for throwing a penalty flag into the stands after the Jets' two-point try with 2:15 left in the game. When asked about the situation, Reid stated, "This was something Marcus [Peters] and I discussed".
Peters returned to the sideline, but when he came back he was not wearing socks underneath his cleats.
More news: House Democrats Are Going to Try to Impeach President Trump Again
However, the questionable behavior continued on the gridiron with Peters obvious lack of will to tackle during the game.
Reid also has given strong vocal support to quarterback Alex Smith, but the same team sources say Smith will be on a shorter leash based upon his performance against the Jets.
For all the chatter about benching Alex Smith, it's obvious that the secondary has taken a hit.
The Chiefs have lost six of their last seven games after getting off to a 5-0 start, so Peters is nearly certainly not the only player who is frustrated. He picked up the referee's thrown flag, tossed it into the crowd, then walked off the field assuming he had been ejected.