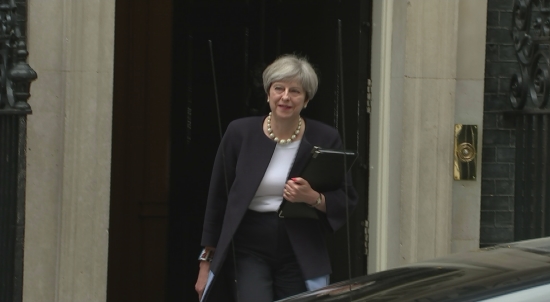 The Prime Minister's official spokesman declined to discuss the details of the attacks but several newspapers later reported that two young men arrested in London and Birmingham last week had been plotting to kill the Prime Minister.
The plot to assassinate PM Theresa May was revealed to the Cabinet by MI5 head Andrew Parker. He also said that the security services have foiled nine terrorist attacks on the United Kingdom in the past one year.
Sky News, which reported the arrests on Wednesday, identified the suspects as Naa'imur Zakariyah Rahman, 20, from north London, and Mohammed Aqib Imran, 21, from southeast Birmingham.
An Islamic extremist planned to use an improvised explosive device to blow up the gates of Downing Street before entering No 10 to make an attempt on Theresa May's life. The report said British security forces had missed chances to stop the attack.
More news: Katrina Kaif dedicates heartfelt message to late legendary actor Shashi Kapoor
In May, 22 people died when suicide bomber Salman Ramadan Abed targeted concert-goers at Manchester Arena.
The men were arrested last week following a joint operation by MI5, the UK's counter-terrorism security service, and police.
Rahman is charged with preparing acts of terrorism and assisting Imran in terror planning. He has told about the planned attack in a report to the government on Monday. The then prime minister, John Major, was inside but was not hurt.