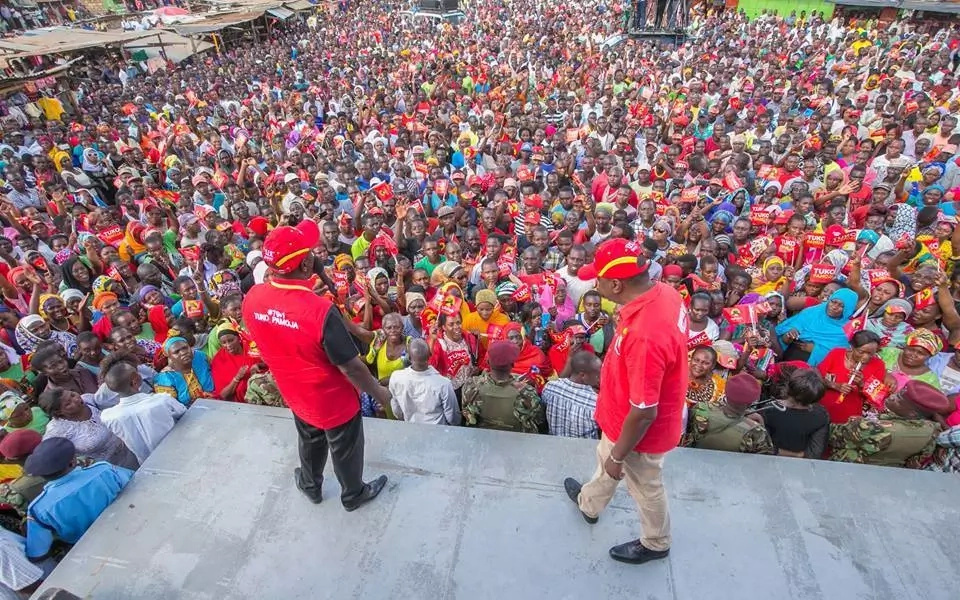 The demonstrations defied a new government ban on opposition protests in the central business districts of Kenya's three largest cities, while concerns rose again about election-related violence in East Africa's largest economy.
But opposition leader Raila Odinga has refused to take part, saying the re-run should not happen until wide-ranging reforms are brought in to prevent another failed vote.
The State Department urged Kenya's security forces not to use "unnecessary force" and called for demonstrations to be peaceful. In Odinga's western stronghold of Kisumu, thousands of protesters took to the street, blocking roads, setting heaps of tyres alight and engaging in running battles with police. Police also used tear gas in Mombasa, said opposition legislator Abdulswamad Shariff Nassir. Human rights groups protested, with some pointing out that police have killed at least 37 people in demonstrations since the results of the August election were announced.
Odinga said that based on a 2013 Supreme Court ruling, Kenya's Independent Electoral Boundaries Commission (IEBC) now had 90 days to accept new nominations following his withdrawal this week from the rerun against President Uhuru Kenyatta.
The election laws changes were ordered by the Supreme Court, which identified a lacuna it said needed to be filled, when it annulled the August 8 elections citing irregularities.
Odinga's withdrawal had fueled speculation about whether the vote would go ahead at all.
The protests come as Kenya is mired in confusion over a presidential election that is due to take place in less than two weeks, on October 26.
More news: Thousands of Kurdish Troops Sent to Kirkuk to Face 'Iraqi Threat'
Opposition coalition Chief Executive Officer Norman Magaya said police have allowed government supporters into the banned protest areas and that they were attacking opposition supporters. However, the crowd later dispersed peacefully after speeches from opposition leaders, helped along by the first heavy rainfall of the season.
"If it goes ahead it is not an election, it is a selection", Odinga told Reuters in an interview during a visit to London.
Martin Kimani, director of the Kenyan government's National Counter Terrorism Centre, said the authorities were trying to maintain law and order.
Kenya's opposition leader Raila Odinga said on Friday that his withdrawal from a presidential election rerun scheduled for October 26 meant the poll had been "canceled" and there should be fresh nominations for a new vote.
In a statement issued by Minister for Africa Rory Stewart on Friday, the United Kingdom government pointed out that the rushed amendments would bring unnecessary tension in the country.
Many observers agreed the 2007 election was deeply flawed, and it triggered politically motivated tribal violence that left more than 1,100 dead.