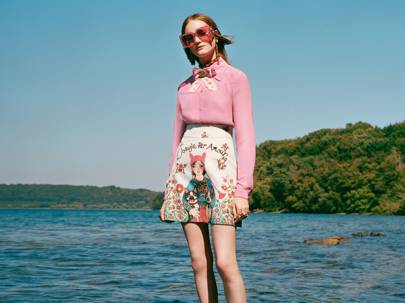 Italy's Gucci will stop using fur in its designs from next year, joining a growing number of fashion houses looking at alternatives after coming under pressure from animal rights activists and changing consumer tastes.
During a talk at the London College of Fashion, Gucci's president has announced the brand's "absolute commitment to making sustainability an intrinsic part of [their] business".
Mr Bizzarri said the change could be made in part thanks to Gucci's creative director, Alessandro Michele, who joined in 2015.
"In selecting a new creative director I wanted to find someone who shared a belief in the importance of the same values".
'A staggering one hundred million animals a year still suffer for the fur industry, but that can only be sustained for as long as designers continue to use fur.
Bizzarri told Vogue of the decision: "We've been talking about it, Alessandro [Michele] and I, for a few months".
More news: Japan trade ministry says Kobe Steel scandal harms trust in country's manufacturing
The brand's remaining fur items will be given to a charity auction, and the proceeds will be donated to worldwide animal rights organisations Humane Society global and LAV. Technology is now available that means you don't need to use fur.
In April, a Sky News Investigation with Humane Society International found four types of animal fur being sold on the British high street - but marketed to shoppers as fake fur.
Anti-fur campaigners say the move by these high-profile brands is a huge game changer in the fashion world.
The move has been welcomed by organisations like Humane Society International (HSI), The Humane Society of the United States (HSAS), and LAV-members of the Fur Free Alliance (FFA), a coalition of more than 40 animal protection organisations working together to end the fur trade.
The company joins many other leading fashion brands and retailers like Armani, HUGO BOSS, Yoox Net-a-Porter, Stella McCartney and more in going fur-free, and will be part of the global Fur Free Retailer Program.