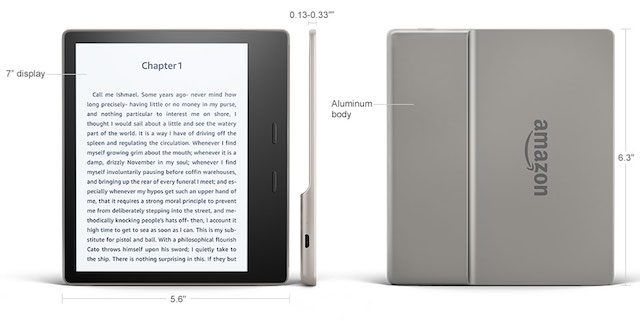 Ahead of the 10th anniversary of the original Kindle in November, the new top-end device aims to lead Amazon's e-readers into the next decade with a new aluminium design, longer built-in battery life and a larger, brighter screen.
"Ten years ago, we introduced our first Kindle with the mission of delivering any book every written in 60 seconds or less", said Dave Limp, Senior Vice President, Amazon Devices, in a statement.
Amazon has announced a refresh for its most-advanced eReader, the Kindle Oasis, which will see the device gain IPX8 waterproofing.
The all-new Kindle Oasis is available for pre-order for Rs 21,999 for the 8GB model and Rs 28,999 for the 32GB model (WiFi + free 3G). Today, the company has launched the new variant of the Kindle Oasis. The e-reader comes with a 7-inch e-ink display, a full inch bigger than its predecessor.
More news: $2 million-dollar-worth of gold ends up in Switzerland's sewage annually
The e-reader is now up for pre-order on Amazon.in and will start shipping from November 13.
The device is IPX8 waterproof certified which means it can be submerged in water up to 2m for up to 60 minutes.
The e-reader offers massive book selection, and over 30,000 free eBooks and 2 million paid eBooks. Amazon also unveiled a new covers for the new Kindle Oasis, which can transform into a stand. The all-new Kindle Oasis comes with 8GB storage, which has twice the storage as the first Kindle Oasis and can hold thousands of titles.
This latest Amazon eReader has Wi-Fi support and a 3G model. All of the waterproof Kindles come with Bluetooth connectivity, which will allow you to play your Audible titles on wireless speakers or headsets. Also inbuilt is Audible, Amazon's standard feature which lets you switch between reading and listening modes more easily. The $44.99 fabric cover is available in Charcoal, Indigo, or Sandstone, and the $59.99 leather cover comes in Merlot, Midnight, and Saddle Tan. Moreover, with Kindle Unlimited offer Amazon claims to have over 1 million eBooks available at starting price of Rs 149 per month.