The flood situation in the north-eastern region of the country worsened, with five persons losing their lives in Assam today.
Following the devasting flood, around 64,000 people are homeless and forced them to take shelter in the relief camps set up by the districts administration.
Brahmaputra and its tributaries are also reported to be flowing above the danger level at several places.
The worst affected district in upper Assam are Lakhimpur, Tinsukia and Dhemaji and in lower Assam, it is Chirang, Bongaigaon and Kokrajhar. Personnel of the State Disaster Response Force, National Disaster Response Force and others were engaged in rescue and relief operations.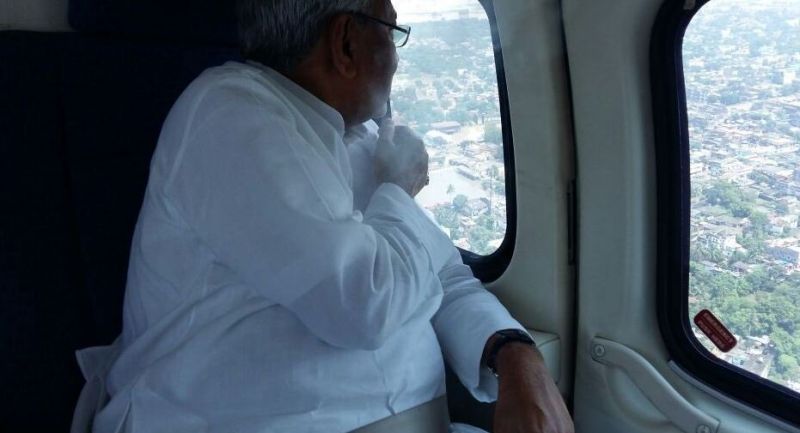 Bihar Chief Minister Nitish Kumar conducts aerial survey of flood affected areas
Later talking to the media persons, the Assam CM said that the government's first priority is to provide relief materials to all the flood affected people at this hour and all Deputy Commissioners have been instructed to ensure adequate flood relief to the affected people.
Crop land damage was in areas of 1,00,441.70 hectares. The reason behind the rise in the water-level in the Brahmaputra and its tributaries is due to the heavy rains in catchment areas of neighbouring hilly states. The water level of Brahmaputra river flowing over danger level marks in Nematighat in Jorhat, Dibrugarh, Tezpur in Sonitpur, Dhubri following incessant rains in the stateand neighbouring Arunachal Pradesh, Meghalaya and Bhutan. Almost 20,000 people have taken shelter in relief camps in Agartala and suburban areas after an unprecedented almost 200 mm rainfall was recorded by the meteorological department, which predicted heavier showers for the next 24 hours till Sunday evening. Road communication in several parts of the state has been disrupted due to landslides.
Flash floods and landslides have also affected large swathes of Namsai and West Siang districts of Arunachal Pradesh, washing away bridges and damaging roads.
Rivers in South Sikkim are also likely to flow in Moderate Flood situation during the period from 10th to 15th August 2017. In North Bengal, nearly all trains are running late.
More news: Can US Attack North Korea and Claim 'Self Defense'?